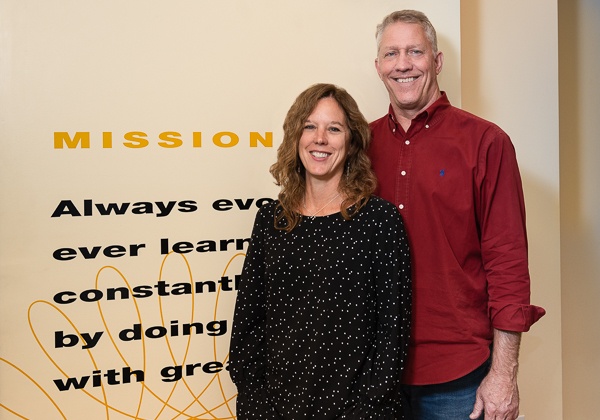 Always evolving, ever learning, constantly growing by doing great work with great people.
Those words have been especially true of our integrated team. That's why I'm excited to share news of two new teammates who will deliver fresh insights, 25+ years of experience, unsurpassed strategic skills and unmatched expertise to our business.
We're happy to welcome Kirk Banasik as our new vice president, building products and Nancy Banasik as our new vice president, strategic account planner.
At Noble Communications in Chicago (acquired by Gatesman last year) Kirk grew the Home & Building practice area into one of the agency's largest groups. Thanks to his constant focus on building meaningful connections with customers, he helped to drive unprecedented success for renowned brands such as DuPont, Asahi Glass Company, Efco, VT Industries, TAMKO, Solutia (formerly Monsanto) and more.
Nancy brings aboard the expertise she gained as a strategist on leading consumer brands, and as Noble's lead strategist and account planner for the Home & Building team. Her deep understanding and thinking drove breakthrough work for brands including Heinz, DuPont, Hoover and BEHR. At Pipitone Group, she is expanding our consumer insights and helping us find new ways to surprise, connect and inspire.
"We're thrilled to have Kirk and Nancy on board," said Scott Pipitone, president and CEO. "InteGREAT Thinking is what we do and they bring the collaboration, active minds and fresh perspectives that push us forward. I couldn't be more excited about what's ahead for the agency and our clients."
Click here and get to know more about Kirk and Nancy and take a look at the success we've driven for building product clients.