It's an incredible honor to be named the first Small Business Community Hero by Direct Energy and Pittsburgh Magazine At Pipitone Group (PG), we're celebrating our 20th Anniversary this year. That occasion and this award has prompted me to think a lot about what we've accomplished in the past 20 years as well as what it means to be a good corporate citizen here in the Pittsburgh region. For me and the 32 talented people who work with me, it comes down to one simple phrase: Doing Great Work with Great People.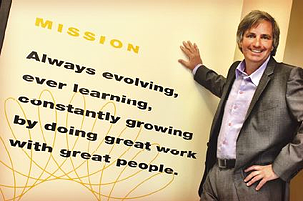 When people hear "community service," particularly as it relates to a marketing and communications firm, they think it means pro bono work. While we do our fair share of marketing for nonprofits here at PG, great work means more than just in-kind services.
We've made a conscious effort at PG to work with companies—for profit and nonprofit—whose mission it is to do great work. This can come in the form of health and human service agencies providing direct care and support or multinational corporations with a good and true sense of corporate social responsibility. From small and large nonprofits with budgets everywhere in between, to companies that do well for themselves and good for their customers by developing innovative technologies or manufacturing high quality products, we're proud to have done great work with great people everywhere along this spectrum.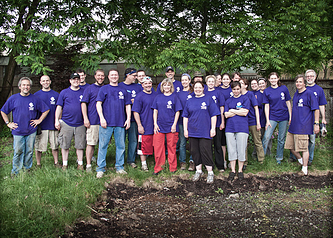 And it's not just about our firm's work product, either. Individually, numerous staff members of Pipitone Group donate their time, talent and treasure to worthy causes. This involves participation on many boards of directors for organizations including the Alzheimer's Association; the Good Grief Center for Bereavement Support, a Division of Ursuline Senior Services; the Northside North Shore Chamber of Commerce the Pittsburgh Cultural Trust; and Presbyterian SeniorCare Foundation. These organizations do great work in our communities and have put their trust in us to help steward them in their important missions—an honor and a responsibility we take very seriously.
There's also front line volunteer work done by Pipitone Group staff, whether at the individual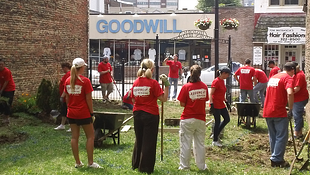 level—one staff member helped to rebuild an orphanage in Nicaragua through her local church this past year—or as a team. Every year for the past two years, we've shut down the office to go out into the community and make a tangible difference in the lives of our neighbors and friends—even those we don't know personally. From the beautification of a Veteran's Monument to the creation of an Urban Garden, we walk the walk inside and outside our office walls.
Once again, I am truly humbled to be recognized for my community service through this award, but I'd like to wholeheartedly thank all of the Great People I do Great Work with every day, including PG staff, clients, vendors and community partners. Together, we are all Community Heroes.