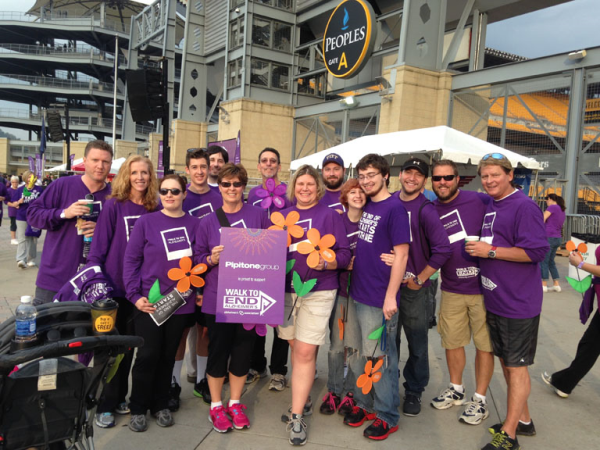 A team of 55 real and "virtual" walkers represented Pipitone Group in the 2013 Walk to End Alzheimer's on Saturday, Oct. 5. The three-mile walk, which started at Heinz Field and toured much of the North Shore, raised nearly $235,000 for the Alzheimer's Association's Greater Pennsylvania Chapter. PG's team raised $4,065, which was 119 percent of our goal, and was the third highest corporate team total and fourth highest of all 250 teams participating in the Pittsburgh Walk.
Saturday's event started with beautiful Indian summer weather, but was hit with a short but steady downpour at the start of the walk. Eventually, the skies cleared up as the team trekked onward, a bit soggy in their long-sleeved purple Walk t-shirts—but with spirits undaunted!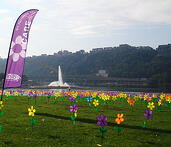 Walkers were given pinwheel flowers in colors representing their association with Alzheimer's disease: blue for those with Alzheimer's, yellow for caregivers, purple for those who've lost someone to the disease and orange for those with no connection but a vision for a world without Alzheimer's. The flowers were planted in the grassy field near Heinz Field to form a Promise Garden and served as a vivid reminder of the diverse reasons walkers give their time and money to the cause.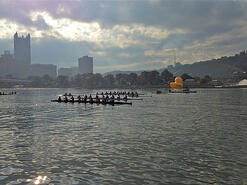 The walk route paralleled the Allegheny River on the North Shore, where walkers could watch the teams racing in the Head of the Ohio rowing competition, as well as take in a great view of the tail end of the giant Rubber Duck floating artwork moored at Point State Park!
Pipitone Group's own VP of Strategy, Arnie Begler, served as the committee chair for this year's Walk, as he has for the last two years, and the whole PG family rallied around to support the cause. Kim Tarquinio, director of account services, captained the PG Team, raising nearly $600 herself and earning her recognition by the Alzheimer's Association as a Champion Club member. Both Arnie and Kim have a family connection to Alzheimer's disease, so the walk had an especially personal significance. Alice Benninger, supervisor of creative production, helped organize the Pipitone Group effort.
"I can't begin to thank all the PG walkers enough for participating in the Walk to End Alzheimer's on Saturday," said Arnie. "It was great to meet all their significant others, kids and dogs. While I didn't get to spend a lot of time with them at the Walk, their presence did not go unnoticed. As I was on stage and saw all of our staff and their family members, I was overwhelmed with gratitude for their support, not only for this WALK but for the all of the community services we provide."
The Alzheimer's Association Walk to End Alzheimer's raises awareness and funds for Alzheimer research, care and support. Currently, more than five million Americans have Alzheimer's and that number is expected to grow to as many as 16 million by 2050.
Pipitone Group is proud to have supported the Walk with our successful campaign.