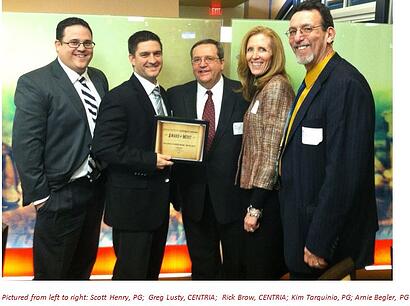 Pipitone Group was very excited to win two different awards at the PRSA Pittsburgh Renaissance Awards on January 28, 2014 for their collaborative efforts with the teams at PPG and CENTRIA.
The first award was in the category of Online or Social Media/Website for PG's work done in collaboration with the folks at PPG Ideascapes in developing the PPG Glass Education Center, which works to educate architects about the benefits of designing, specifying and building with commercial glass.
Additionally, Pipitone Group and its client, CENTRIA, received an award in the category of Annual Report or Capabilities Brochure for CENTRIA's Formawall brochure, which demonstrates the advantages of using innovative exterior metal wall panels to create sustainable, high performance and aesthetically pleasing buildings.
The PRSA Pittsburgh Renaissance Awards recognize the work of public relations professionals who seek to build, manage and protect the business and brand reputation of their clients and organizations.
This year's PRSA awards were judged by the PRSA Los Angeles chapter.
Congratulations to the other nominees and winners!