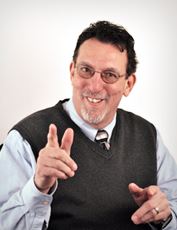 Pipitone Group is proud to announce that Arnie Begler has been promoted to an agency Principal. Arnie has served as the agency's Vice President of Strategic Planning and Business Development for the past 10 years.
"Arnie has been an essential member of our management team and a critical element in our success for the past decade," said Scott Pipitone, president and CEO of Pipitone Group. "One of the first people in and last to leave every day, Arnie has a tremendous passion for marketing and helping our clients overcome business challenges as well as seize opportunities. He will continue to serve as a stakeholder for many of our clients while continuing to help our business grow."
Arnie is a 30-year veteran in the industry. His role at Pipitone Group is one of strategy, counsel and execution. He partners with the account services team to determine the most effective and efficient business and marketing strategies for Pipitone Group's client base. In addition, he is responsible for leading business development efforts through the identification, analysis and negotiation of business opportunities with new and existing clients. He also serves as the primary facilitator of the agency's IntelliStep Visual Planning Process
Prior to Pipitone Group, Arnie served as vice president of marketing technology at Blattner Brunner (Brunner), which in 1990 acquired his database marketing and research company — High Technology Associates — a specialty marketing firm focusing on database marketing and research.
Arnie holds bachelor's and master's degrees in library science from the University of Pittsburgh and has attended the executive marketing program at Harvard Business School.
He is the past board chair for the Greater Pennsylvania Chapter of the Alzheimer's Association and currently serves as the Pittsburgh co-chair for the Walk to End Alzheimer's.