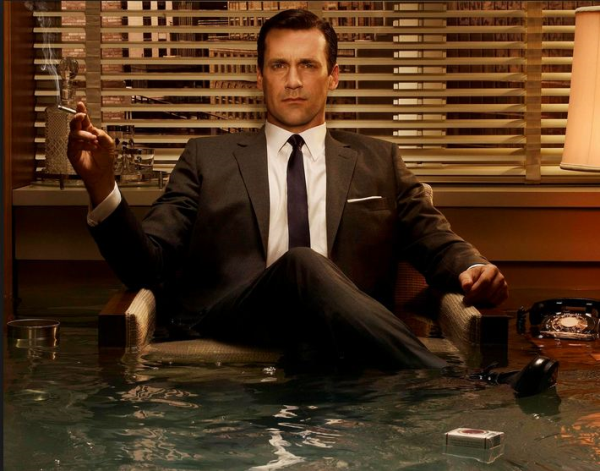 Adman Don Draper as portrayed by Jon Hamm on AMC's "Mad Men."
Sometimes, when people ask me what I do for a living, and I tell them I'm a creative director at an ad agency, they look at me and ask, with trepidation, "Like Don Draper, on Mad Men?"
Immediately, I realize that they're envisioning me lying on my couch in my office, hung over—or worse—sipping Scotch straight at 10:30 in the morning, while a Lucky Strike burns in a crowded ashtray. Or they picture me heading out of my office, hat in hand, to catch a quick French film that will inspire me in my attempt to create the next great campaign to launch some new product.
It's hard not to envy that larger-than-life job of Don Draper, let alone the lifestyle. Undoubtedly, in that era, our profession had so much more mystery. In today's world, a typical creative director's day involves much more of a workman-like, disciplined process of driving decisions to incrementally guide groups of very talented specialists toward messages, brands, concepts and campaigns that ultimately are decided on by committee.
Take today, for instance. After months of work, we made a major presentation to a new client this morning—message map, tagline, branding strategy, visual identity, brand launch, campaign ideas. On "Mad Men," Don would have spouted off a brilliant headline and his creative team would have sprung into action. They'd work late into the night and then, the next day, Don would present their hand-drawn ideas on storyboards and the client would go home happy.
In reality, it takes a lot more than one snappy headline to work in today's integrated communications world. At Pipitone Group, we use a more collaborative, holistic approach (InteGREAT Thinking) to developing strategy and tactics for our clients. One idea often can spark a chain reaction of other great ideas. A technology idea may spark a print concept or vice versa.
More often, the best ideas come from a little spark that ignites a team of creatives and strategists to hash it out and then go back to their own spaces to think and write and sketch and create. Then, it still gets tweaked to craft the right message, the right image, the right look in every medium.
And there is research and more research driving those creative ideas.
Don Draper, in season one of "Mad Men," did have a commentary that fits the way ideas sometimes come to me and my creative team. He said, "Just think about it deeply, then forget it…then an idea will jump up in your face."
I often tell my creative team that an idea occurred to me in the shower or some other unorthodox place, and they tell me they get the same kinds of creative bursts in their sleep or while driving. We all scramble to write them down or sketch them out, lest we forget those little gems before we can tell anyone else!
The long and short of it, though, is that the first idea is seldom the one that makes it to the ad, brochure or website. It usually is just the catalyst that opens the floodgate to more refined ideas that require diligence and constant fine-tuning to get to the one or more that might work. But once the ideas start flowing, that's where the exciting part starts— developing the strategies and articulations of the cool idea so the client will get it and fleshing it out enough to confirm how well it will work at every level. Because if it doesn't, it's was just another campaign—without a big IDEA to make it memorable.
So next time you watch "Mad Men" and think how easy it would be to have a job like Don Draper's, think again. Working in an ad agency IS fun, and it is cool. But if it looks easy, then we're just doing our jobs really well. I'm not saying there aren't times when a big idea just seems to hit you—but, more often than not, it's a product of intense discovery and hard work.
It's amusing to look back on the perceptions of sex, drugs and romance of the early days of advertising. But today, the combination of technology, the sea of communication channels and our fluctuating economy has not only transformed our creative process but our work ethic, the role of women in the process, and—oh yes—how much liquor we keep on the serving cart next to our desk.
But unlike Don, I never want to feel like the smartest person in the room. In this business, you are only as good as the people you surround yourself with.