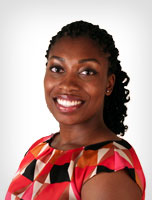 Pipitone Group (PG) is excited to welcome back Brittany Smalls to its team of integrated marketing professionals. Previously a public relations intern at PG, she rejoins the PG team as a Digital Marketing Specialist. In this role, she will develop Search Engine Optimization (SEO) strategies, utilize web analytics, and help guide our clients—and their customers—along the path to purchase. She'll be working in concert with all our great people.
"We're excited to welcome Brittany back to Pipitone Group," said Leah Moore, Digital Marketing Manager, Pipitone Group. "Her enthusiasm, commitment to professionalism and results-driven attitude make her a valuable digital marketing team member."
Smalls graduated from the University of Pittsburgh where she earned a Bachelor of Arts in English Writing and Communications. Previously, she worked as an account executive at WPXI-TV after her time as an intern at Pipitone Group. Smalls is excited to return to the Pipitone Group Team and use her digital marketing and management abilities to contribute to PG and its clients.
"I'm thrilled to return to Pipitone Group. It's exciting to be back in the midst of so many innovative and talented individuals who are always striving to provide the best experience for their clients and partners," Smalls said.