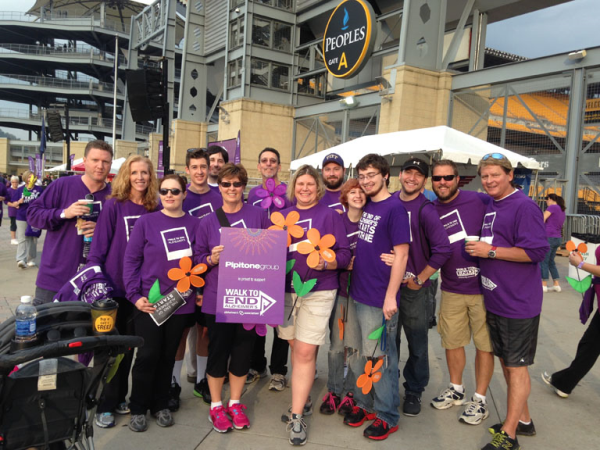 Pipitone Group is pleased to announce that it will once again participate in the Walk to End Alzheimer's. This year's event is being held Saturday, October 11 at Heinz Field in Pittsburgh. The three-mile walk starts at Heinz Field and tours much of the North Shore.
"We have always been committed to community service and supporting important causes," said Scott Pipitone, Pipitone Group, President and CEO. "Pipitone Group is excited to give back in this way."
This year will mark Pipitone Group's fourth year participating in the walk. Last year, a team of 55 real and "virtual" walkers represented Pipitone Group in the 2013 Walk to End Alzheimer's. PG's team raised $4,065, which was 119 percent of our goal, and was the third highest corporate team total and fourth highest of all 250 teams participating in the Pittsburgh Walk. Last year's walk raised nearly $235,000 for the Alzheimer's Association's Greater Pennsylvania Chapter.
Pipitone Group's own Principal of Strategic Integration, Arnie Begler, will serve as the Co-chair for the Pittsburgh Walk, as he has for the last three years, and the whole PG family will rally around to support the cause. Arnie has a family connection to Alzheimer's disease, so the walk has an especially personal significance. Courtney Connor, PG's Relationship Manager, is this year's Pipitone Group captain and is helping to organize the PG team.
"Supporting Alzheimer's research is an important cause. I'm so thankful for all of the Pipitone Group members and their families that come out for this event each year," said Begler. "At Pipitone Group, everyone is really committed to making a difference in the community, and that's great to see."
The Alzheimer's Association Walk to End Alzheimer's raises awareness and funds for Alzheimer's research, care and support. Currently, more than five million Americans have Alzheimer's and that number is expected to grow to as many as 16 million by 2050.
Pipitone Group is proud to support the Walk, but we need your help. Please, consider donating, by clicking this link. Help us reach our $4,500 goal!