On September 16th, we shoveled and raked and painted, working to make our community a little bit brighter during our fifth annual volunteer day. However, our work was not yet complete.
One week after the project, the green spaces that we beautified are still looking beautiful. However, that is only because of some generous Pipitone Group team members who ventured down to the green spaces with buckets of water, to give the plants a much-needed drink, rescuing them from the hot September sun.
But even with the plants well-watered and the paint dried, the project was not yet complete. Yesterday, one final touch was needed—a Welcome to Observatory Hill sign in the parking lot on the 3900 block of Perrysville Ave. The approximately four-foot by eight-foot sign replaced an older sign which best days had past.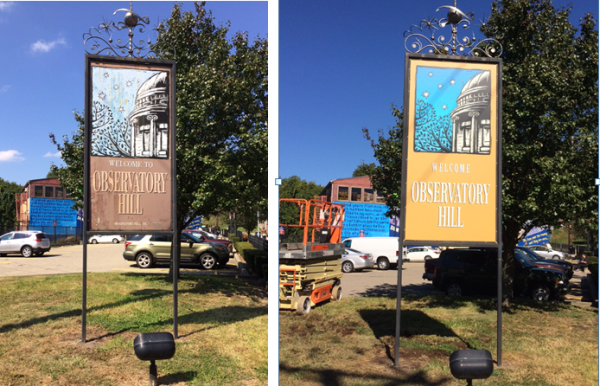 The new, approximately four-foot by eight-foot sign needed to be placed five feet off the ground, requiring some heavy duty equipment, as well as safety equipment from our client, MSA. Our very own production designer, Vince Maffessanti, volunteered for the job while wearing MSA's V-Gard Protective Cap and it new Arc Flash Full Body Harness—to accomplish the task.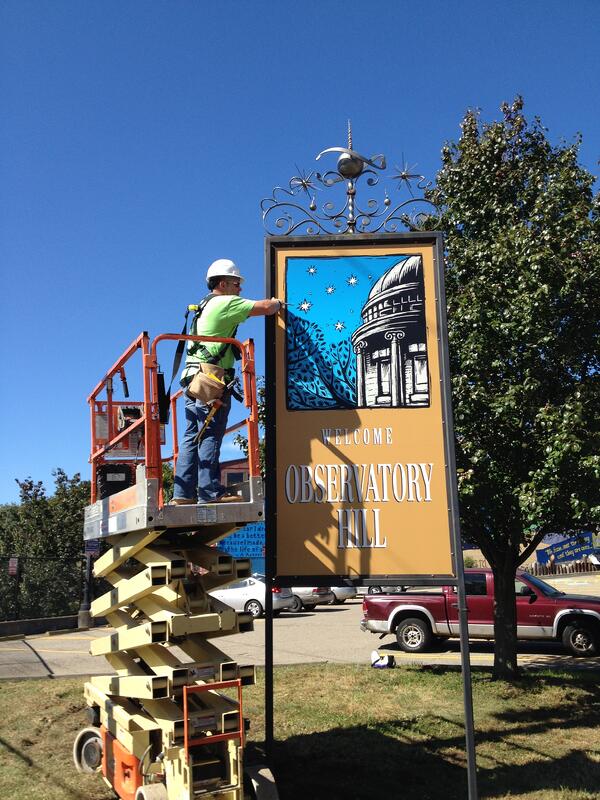 "I'm glad I could help out and put a finishing touch on a job well done. The new sign looks great. It's amazing how one small thing can really improve the overall feel of the neighborhood," said Maffessanti.