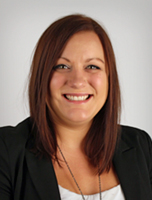 Pipitone Group (PG) is excited to welcome Allison Carberry to its team of integrated marketing professionals. She is joining the PG team as an Account Executive. In this role, she will manage client relationships, lead internal project teams and identify growth opportunities for clients, working in concert with all our great people.
"We're very glad to have Allison on our team of integrated marketers," said Kim Tarquinio, Director of Account Services, Pipitone Group. "Her passion and can-do attitude, combined with her marketing and account executive experience make her a great addition to our Account Services department. I know she will make a positive impact for our clients and our internal teams."
Carberry graduated from Gannon University where she earned a Bachelor of Science in Business Administration, Advertising Communications. Carberry joins Pipitone Group after gaining experience in client relations, media buying and coordination and social media management at 4Front Branding in Honolulu, HI. Her other previous marketing experience includes working as a marketing assistant for Vincent James Company and a communications and graphic design intern for United Way of Erie County. Carberry is excited to use her marketing and management abilities to contribute to PG and its clients.
"I am very excited to continue my marketing career in my beloved hometown of Pittsburgh," Carberry said. "I'm proud to work with such a talented group of professionals, and I know that working at Pipitone Group will help me further develop my strategic marketing skills."