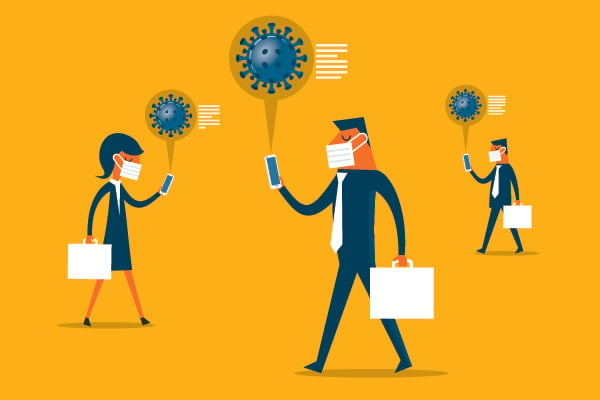 The COVID-19 outbreak has had a profound impact on the way companies across the world do business. From product manufacturers to healthcare facilities, non-profits and places of worship, every type of organization has been forced to adapt to changes brought on by the pandemic.
With so many businesses shut down and others striving to reinvent themselves to serve their customers and constituents, one thing that remains constant is the communication required—now more than ever—to deliver relevant and effective messaging to key audiences.
At Pipitone Group (Pipitone), we're collaborating with clients to execute crisis communication plans and to support their efforts to connect with both their customers and employees as they navigate during these uncharted times.
We all know companies that managed crisis situations well and those that didn't. A quick Google search reveals Tylenol, Pepsi, Toyota and the Red Cross as organizations whose crisis management strategies and tactics provided templates for what to do right. These companies are successful because they know honest, clear, consistent communication is critical at times like these.
Organizations seeking to build or retain customer loyalty during a crisis should keep a couple of things in mind:
Here are few ideas for engaging customers and other stakeholders as the COVID-19 crisis continues:
Keep the lines of communication open. A consistent cadence of concise messages with information specific to each of your audiences will help them understand your availability and how they can continue to get what they need from you. Consider ways to make your most important information or most popular products more accessible online.
Let people know how they can engage with you despite social distancing. Consider offering live-streamed events and classes that bring your services into their homes.
Think about how your company can contribute to news stories and trade publication articles that offer advice on ways to stay safe or contribute to solutions during the crisis.
Implement a live chat on your website to make it easier for people to reach customer service representatives and get help quickly.
If your business offers face-to-face continuing education programs or "lunch & learns," consider converting them to live webinars and send all attendees a gift card to buy lunch.
This is a very difficult time for every business, and Pipitone has the experts and resources to help. Our goal is to help your organization communicate through this crisis so that it emerges healthy and ready to engage in the recovery that will inevitably take place.
We truly hope you, your employees, customers, partners and families are healthy and safe. Please reach out to us if we can help in any way.