A longtime Pipitone Group (PG) client, Axiall Water Treatment Products produces calcium hypochlorite—a solid form of chlorine—used for a wide range of water treatment applications, including commercial swimming pools, under the Accu-Tab® chlorination system brand.
A major focus of their marketing efforts has always been educating commercial pool owners and operators. In the past, Water Treatment Products, in conjunction with PG, had issued a number of discovery-based white papers that explored operational commercial pool topics such as The Dirty Truth, a study of what patrons really do at water parks, and Smooth Operator, a guide to maintenance and training practices, among others.
Conducting market research in these cases was a necessity because clear, quantifiable data simply didn't exist. The next venture, a nationwide study of health inspectors, would once again have to be "home-grown"—but the depth of study itself would be fathoms greater.
The client had questions about this crucial audience: Which water quality violations are most frequently encountered by health inspectors? What types of facilities are common violators? How much training do aquatics water quality managers really have?
And most importantly: how can Axiall best cater to their needs?
To gain a fuller understanding of what aquatics facilities managers can do to pass inspection—and how health inspectors work—Axiall needed a comprehensive repository of market data.
What Axiall got was an unprecedented study, which would not only reinforce their thought leadership position, but also become a featured topic of discussion at the 2014 National Swimming Pool Foundation's World Aquatic Health Conference (WAHC) in Oregon. And PG built it by helping align Axiall with the National Association of County and City Health Officials (NACCHO) to develop, conduct, publish and distribute what came to be titled, "Looking for Trouble," which would earn PG and Axiall an IABC Golden Triangle Award in the publications category.
A Deep Pool
NACCHO received 134 responses to its survey from local health departments (a 45% response rate), revealing key findings on why pools receive violations or get shut down. The sample itself was stratified by jurisdiction and population size to ensure accurate representation of local health inspections. To ensure the survey's integrity, NACCHO piloted the survey among a working group of health inspectors prior to launch. The survey was then administered through an online survey tool and emailed to participants in the survey sample.
Making a Splash
The survey's findings were compiled into a 36-page report, complete with findings and recommendations for pool owners and operators. Axiall and NACCHO would co-present the report at the WAHC. The report would later be featured in Pool and Spa News, Units Magazine, Recreation Management and other industry publications.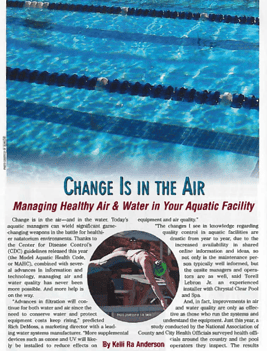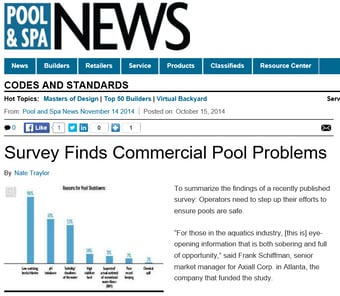 Hardly Troubling Results
To-date, more than 53 health departments nationwide downloaded "Looking for Trouble." In addition, the study generated 80 form completions from a Recreation Management magazine email blast and numerous new business leads for Axiall via the campaign's custom landing page.
"By partnering with NACCHO, we were able to tap into a critical influencer audience of our customer base," says Frank Schiffman, Business Development and Marketing Manager for Axiall Water Treatment Products. "'Looking for Trouble' was a landmark project for Axiall Water Treatment Products —and the industry."
Looking for clarity in your marketing strategy?
Contact a PG representative today!