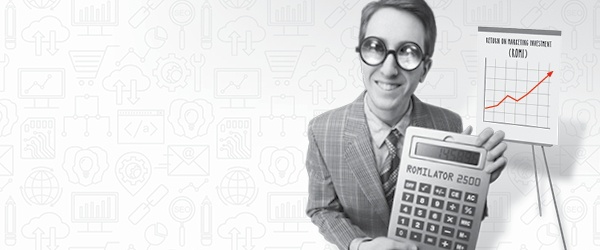 It is a capital mistake to theorize before one has data. Insensibly, one begins to twist facts to suit theories, instead of theories to suit facts. – Arthur Conan Doyle
If you're a marketer, there's a good chance you didn't get into this business for the math. But the reality today is that we're living in the era of big data. Measuring the results of your marketing efforts is more important than ever.
Sure, your agency might be delivering eye-popping creative on a regular basis—but if it's not based upon the right strategy and they're not delivering the right metrics, what are they really achieving? If you and your agency aren't obsessing over results on a regular basis, something's not right.
Here are some common areas in which agencies and their clients commonly fall short when it comes to measurement—and how you can help reverse the trend, grow your business and most importantly, prove the value of marketing.
Tangible Goal-Setting
All goals should be measurable. Corporate goals. Marketing goals. Sales goals. On a campaign-basis. On a brand-basis. Total conversions. Percentage improvements from previous years. Everything.
If your goal is to "raise awareness," make it tangible:
"Increase annual advertising impressions by 15 percent."
"Grow marketing contact database by 50 percent."
"Increase social media mentions by 75 percent."
"Increase sales conversions on product launch campaigns by 8 percent."
Find metrics that are direct indicators of your goals. Segment your goals by your distinct audiences and use marketing best practices to make sure you're isolating that audience's activity.
Lead Classification
Every brand should have a marketing contact database, but few employ adequate layers of classification to ensure that any and all measurement efforts are hyper-relevant and reveal actionable insights.
Consider the following methods of classifying contacts in your database:
Customer maturity (legacy customers, new customers)
Prospect type (lead, marketing qualified lead, sales qualified lead)
Contact source (advertising, trade show, contact form submission)
Job responsibility
By employing several classification criteria, you not only facilitate hyper-targeted communications, but also zone in on specific areas for improvement. Are trade show contacts converting at a lower rate than contacts from all other sources? You might want to address that through marketing automation, which brings me too…
Hunting for ROMI
Here it is: the bigfoot of marketing. While rarely seen in the flesh, measuring Return on Marketing Investment (ROMI) is, in fact, possible—with the right systems and strategies in place. When you can tell your CEO that your latest campaign paid for itself in three weeks, you've objectively proven your value as a marketer.
Here's an abbreviated checklist on tracking down the elusive ROMI:
Align marketing and sales processes by outlining your buyer's journey. (This is especially important for companies with long sales cycles.)
Identify the prerequisites for becoming a sales qualified lead.
Convert those prerequisites into questions on contact or lead generation forms.
Deliver targeted messages and offers to nurture those leads, attaching a dollar value to each conversion.
Measure!
If all this measurement sounds a little nuts, good! You work in marketing—we're all a little nuts. Fortunately, with the right agency, working with you as a partner to define your goals and deliver real results, the burden of proof becomes that much lighter.
Ready to get Measurably Mental?