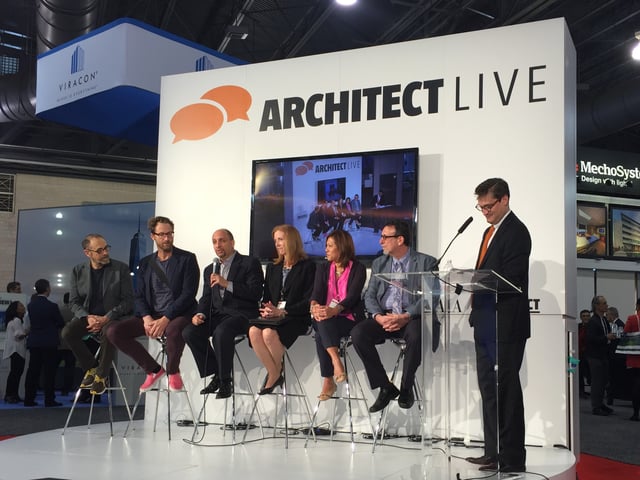 The merits of trade show effectiveness within the architectural building products arena — and trade shows in general — are a hot-button issue in today's marketing culture.
The argument has been made that in today's digital age, effective interaction can take place without having to put forth the resources that trade shows require. But I totally disagree! Relationships are nurtured face-to-face and shows provide that opportunity. Never will there be so many of your key audiences in one place.
In the midst of this trade show season, having attended events like the International Builders Show, KBIS and Coverings, as well as preparing for the annual AIA Conference on Architecture show, one thing remains certain: if you do decide to participate at a show, GO! If you leverage your booth and staff correctly, there is plenty of merit in attending these shows and related events, capturing the attention of architects, designers, building owners and more.
Don't just be a spectator. Booths, marketing materials and travel costs add up, so why put forth all those resources if you do not plan to make the most of every trade show you attend? Simply sitting at your booth and hoping potential clients stop by will not make you stand out, so be active during your window when the floor is open.
Here are a few ways to make the most out of your experience at your next trade show:
Implement a Direct Mail Campaign
Pre-show mailers focused on prospects and customers prior to the event will help to generate leads before you even set foot on the showroom floor. Trade show attendees will receive several direct mail campaigns leading up to the event, so craft a solid message to drive traffic to your booth to payoff that direct mail offer. Use that booth time to introduce a new product and identify potential new projects.
Incentives Still Work
At the end of the day, trade shows are still a marketplace. Consider using an incentive, such as giveaways or promotional items with company logos to attract customers to your booth. Whether it be the latest innovation in exterior or interior products surrounded by support services, highlight your best marketing materials while interacting with potential new customers to show them what sets you apart.
Focus on More than Clients
Trade shows tend to be client-focused, with the sales team taking the reins and facilitating customer interaction. Bring members of your marketing team so they can interact with thought leaders, editors at some of the top industry publications and other companies. Your team will gain current and valuable knowledge about the industry to focus marketing materials and future campaigns, while also getting to know the editors and publishers that can help with future media relations efforts and intelligence gathering.
Take the Lead
No matter where your company falls in the architectural building product landscape, your team is full of experts, so why not put that on display for the entire industry to see? Make the most of speaking engagements and continuing education courses at the show to position yourself as a thought leader in the space. Sponsorship opportunities also help to elevate your brand.
Competitive Intelligence
Industry trade shows are filled with competitors working to pitch similar products, so you might as well visit them and see what they've been working on. Send someone from your company or a third party to gain intel on a competitor at their booth. Sending a third party representative is a way to discreetly see how the competition highlights its products or services differently.
Start Planning for Next Year's Show
What better time to start planning for next year's show than right after the current one ends? Be proactive and start planning for next year while the event is still fresh in everyone's minds. Do not forget to observe how your company is performing compared to everyone else involved. This is not only a great way to prepare for future shows, but also to get excited about how to make adjustments.
Pipitone Group will heed its own advice at the upcoming American Institute of Architects' (AIA) annual Conference on Architecture from April 27-29 in Orlando, Fla. Not only will we spend time with our clients attending the convention, but we will also present "A S.P.A.C.E Odyssey to Specification" at Hanley Wood's ARCHITECT LIVE studio.
During our presentation, we will walk building manufacturers through The Architect's Journey, the process of realigning existing content to be in accord with the architect's content needs, no matter what phase of the project the architect may be in.
Contact us to learn how Pipitone Group can help to better position your company at your industry's next trade show.