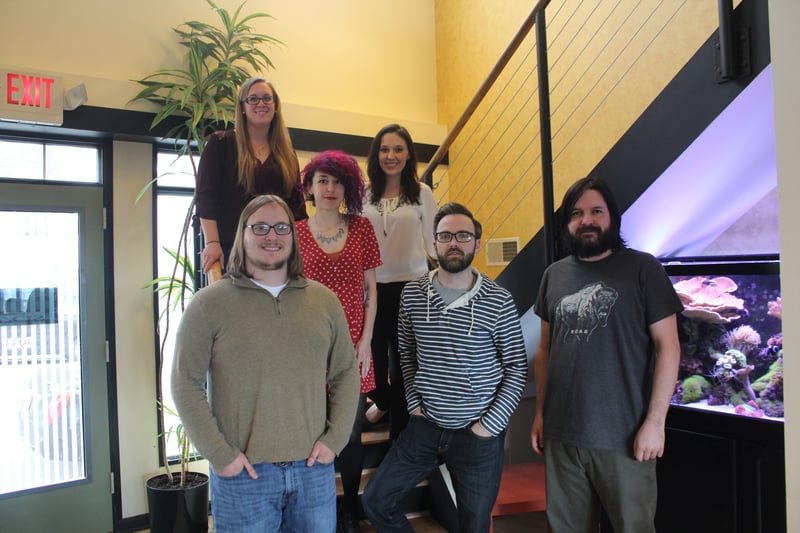 Always evolving, ever learning, constantly growing by doing great work with great people.
Pipitone Group's ethos rings true in 2018 as it welcomes six great people to contribute to the great work done at the agency on Observatory Hill in Pittsburgh, PA. Pipitone is pleased to announce the additions of Ayla Apitsch, Caitie Fink, Cansu Ozen, Evan Sakowicz, Michael McCauley and Brett Westbeld to its team of integrated marketing professionals.
Joining Pipitone's account services team are Ayla Apitsch and Caitie Fink.
Ayla Apitsch, Assistant Account Executive
As an assistant account executive, Ayla brings a variety of skills to support the account services team in its efforts, facilitating day-to-day planning, coordination and monitoring of traditional and online marketing activities. An Ohio University graduate with a degree in strategic communications and a minor in marketing, Ayla most recently interned at Gatesman and MARC USA before joining the Pipitone team.
Caitie Fink, Account Supervisor
With seven years of experience as an account supervisor, Caitie brings additional expertise to the account services team, providing value in the supervision, planning and execution of marketing activities across a broad range of clients. A University of Pittsburgh graduate with a degree in communications, Caitie most recently worked as an account supervisor with Stern Advertising on the McDonald's account.
"We're very excited about the new additions to the account services team," said Arnie Begler, principal, strategic integration and head of the account services team. "With Ayla's support and willingness to learn, and Caitie's previous agency leadership, we will continue to help our clients achieve their business goals."
Pipitone also welcomes a fresh perspective to the agency's growing digital marketing space.
Cansu Ozen, Digital Marketing Specialist
As the newest addition to the digital marketing department, Cansu's responsibilities include digital advertising optimization, monitoring, performance tracking and reporting on a variety of digital marketing efforts and works to drive traffic to her clients' websites. Cansu has a bachelor's degree in economics from Turkey-based Ege University, an ESL Degree from La Roche College and an MBA from Point Park University. Cansu has also interned at Ablak Holdings and BTC as a marketing specialist, was a Graduate Assistant at Point Park University and co-founded Geppetto Café in Lawrenceville prior to her hiring at Pipitone.
"Cansu impressed us immediately not only with her extensive knowledge of the digital marketing sphere, but also with her admirable work ethic and passion for her work," said Leah Moore, director of digital marketing. "She's a true team player and we're very happy to have her onboard."
Pipitone's communications and public relations department officially welcomes a new member as well.
Evan Sakowicz, Content Specialist
As a content specialist, Evan Sakowicz works to provide public relations expertise to clients and generates creative content for print and digital media in collaboration with Pipitone's other departments. With a degree in journalism and public relations from the Indiana University of Pennsylvania, Evan interned at Big Picture Communications as a copywriter and most recently interned with Pipitone before becoming a full-time employee.
"Evan's written and verbal communication skills were duly noted when he interned with us during the summer," said Jeff Piatt, chief creative officer. "His PR and copywriting knowledge and his willingness to take on any assignment, makes him a welcome addition to the content team."
Pipitone's creative design team is presented with some brand-new interactive know-how.
Michael McCauley, Senior Interactive Designer
A Kent State University graduate with a degree in visual communication and design, Michael bridges the gap between the interactive and design teams. As a senior interactive designer, Michael provides strong leadership on digital-heavy projects with an eye on user experience and interface, and also has a strong background in traditional print design, making him a jack of all trades. Prior to his time at Pipitone, Michael worked at Ohio-based communications agency Akhia as an art director.
"Michael has filled a niche that will increase the versatility of our design team, said Vince Maffessanti, creative services manager. "His ability to take on a wide variety of tasks with his strong web and traditional design knowledge makes us incredibly excited to welcome him to the team."
Finally, Pipitone's interactive department is proud to welcome a new member to its ranks.
Brett Westbeld, Senior Interactive Engineer
A Devry University Graduate with a degree in computer information science, Brett Westbeld brings web expertise to the interactive team as the newest senior interactive engineer. In this role, Brett is responsible for the technical design and quality of web applications, designing and launching new features, maintaining code integrity and optimizing design assets for the web. Brett was a senior web applications developer at Reader Landree before joining Pipitone.
"Brett brings a lot to the table that allows us to add additional value to the interactive services we provide clients," said Augie Aggazio, vice president, interactive. "Brett's vast experience with back-end programming languages and front-end technologies will really bolster our capabilities, and we're happy to have him on the team."