What happens in Vegas…gets mounted on our agency walls.
That's because Pipitone Group (Pipitone) was honored for its work with Vitro Architectural Glass with a pair of Brand Builder Awards at the Market Leaders Dinner in Sin City last month.Now in its sixth year, Pipitone has been recognized as a Brand Builder award winner in each year of the event. This year, Pipitone was one of only seven agencies to be recognized for award-winning work, and one of four to be recognized for multiple awards.Competing against some of the top architectural marketing initiatives in the country, Pipitone and Vitro Architectural Glass earned a pair of awards in the B2B custom event and new product launch categories, respectively.
Vitro Architectural Glass' Jumbo Coater Grand Opening Event Campaign – Pipitone assisted in organizing Vitro's grand opening event at its Wichita Falls, Tex., plant in September 2018. Vitro successfully displayed its jumbo glass coater to the local community as well as its nationwide network of glass fabricator customers. Not only did 120 people attend the event – including 47 out of 200 fabricator customers – but the event garnered both local and industry media coverage.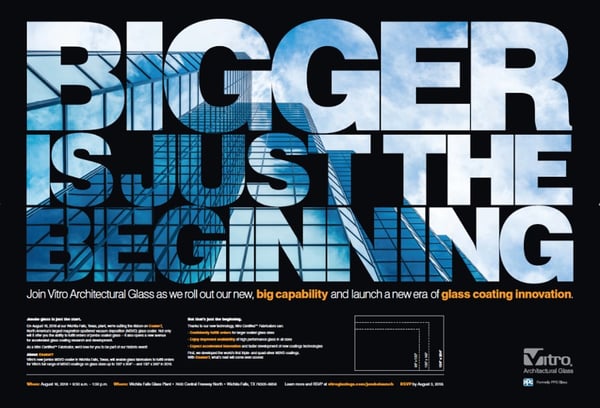 Vitro's Acuity® Low-Iron Glass product launch campaign portrayed how the new product delivers high performance and a neutral aesthetic, minus the green cast of ordinary clear glass, without compromising strict project budgets. Since the product was launched at A'18, Vitro Glass has realized 3,430 unique visits to the campaign landing page, approximately 3 million advertising impressions since June 2018 and hundreds of Acuity glass pre-orders.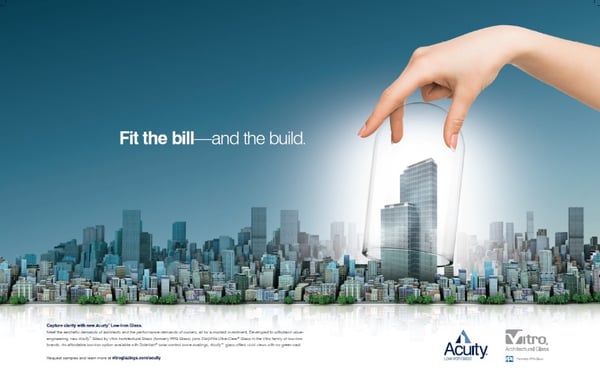 Sponsored by Hanley Wood – the premier information, media, event and strategic marketing services company serving the residential, design and commercial construction industries – the Brand Builder Awards recognize the most innovative and effective marketing campaigns throughout the architectural building products industry.
The Brand Builder Awards marked the second time that Pipitone and Vitro were honored for their work on these campaigns. In January, we earned a Public Relations Society of America (PRSA) Pittsburgh Renaissance Award for the Jumbo Coater Grand Opening Event Campaign and a PRSA Merit Award for the Acuity® Low-Iron Glass Product Launch Campaign.