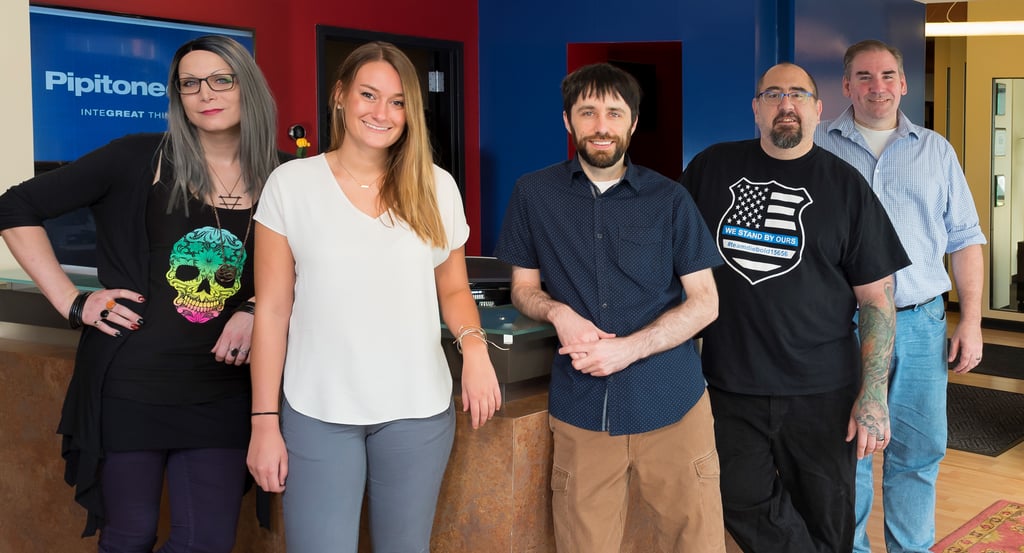 Always evolving, ever learning, constantly growing by doing great work with great people.
More than just a mission statement, that message is the foundation that Pipitone Group (PG) operates on each day. With that mantra not only mounted on the walls of the agency, PG recently put its ethos into practice by enhancing its interactive capabilities with two staff additions to its marketing technologies team and five new hires in total across three departments.
Joining PG's interactive team are Bryan Froud and Joe Lazar, who returns to the agency after a previous 13-year tenure.
Bryan Froud, Senior Interactive Engineer
Bryan joins the interactive team with experience as a senior front-end developer at MARC and as an interactive director for Yellow Sub Marketing. He balances logic and creativity as a multimedia programmer, utilizing his unique development skills in both front and back end coding. Bryan's work history also includes serving as an adjunct professor of Web Design at the Pittsburgh Filmmaker's Institute as well as a seat on the advisory board for the Pittsburgh Technical College (PTC).
Joe Lazar, Senior Multimedia Developer
Working specifically in front end multimedia development, Joe returns to the agency to focus primarily on video, special effects, implementation, responsive mobile coding and more.
"The recent additions to our interactive team is not only a significant boost to the department, but to the entire agency," said Augie Aggazio, vice president, interactive. "Bryan's big agency experience, along with Joe's long professional tenure and expertise in the industry will provide both us and our clients with new ideas as we move forward in the ever-evolving interactive space."
Along with the additions to the interactive team, Pipitone Group also welcomes Jan Urbanic and Katie Krissinger to the design and account services departments, respectively.
Jan Urbanic, Production Designer
With 15 years of experience in the design industry as a graphic designer and illustrator, Jan specializes in print design and pre-press production. Hailing from Australia, she holds three degrees in Interactive Multimedia, Electronic Publishing and Communication Design, as well as tertiary qualifications in graphic design.
"Jan brings an accomplished publishing background with her to Pipitone Group," said Vince Maffessanti, creative services manager. "Her expertise and work experience with a diverse range of clients will be a key asset to our design team."
Katie Krissinger, Account Executive
After working as a PG summer intern in 2015, Katie returns to the agency as an account executive, facilitating day-to-day planning, execution and evaluation of traditional and online marketing activities. A Penn State graduate with a degree in Public Relations, Katie most recently worked as a recruitment advisor for Medix, a healthcare-niched recruitment firm.
"Katie left a very positive impression during her internship here and we are thrilled to welcome her back," said Kim Tarquinio, director of account services. "As the agency continues to grow, our account services team needs to expand along with it, and Katie's addition will certainly help to achieve our department goals."