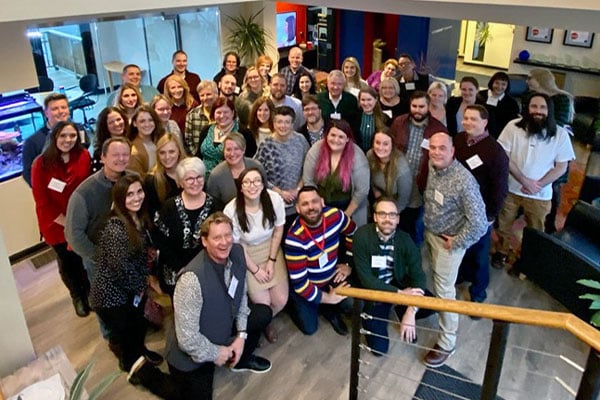 Pipitone Group and PUSH SEVEN Combine Advertising, Digital, Public Relations and Strategic Communications Expertise
The Pipitone Group, an integrated marketing communications firm located in Pittsburgh's Observatory Hill neighborhood, has acquired downtown-based PUSH SEVEN, Inc., one of the city's leading public relations companies.
Scott Pipitone, president, Pipitone Group, said the acquisition will enable the merged company to offer clients an expanded range of services through the combined talents of their staffs.
"We've shared multiple clients with PUSH SEVEN over the years and have always appreciated the quality of their work and ability to meet a diverse range of marketing communications challenges, from strategic planning, message development and creative design to crisis communications and local and trade media relations," Pipitone explained. "We're excited to combine their talent and passion with those of our team to expand the scope of solutions we offer to organizations throughout the region, the U.S. and across North America."
John Millea, president, PUSH SEVEN, agreed. "The combined creative and strategic skills of each firm will provide clients with the tools and resources they need to grow their businesses and meet their marketing goals," he explained. "Both companies have talented professionals and proven leaders with decades of combined experience. Our skills and expertise complement one another and will serve our clients well."
John Millea, and PUSH SEVEN principals Sue Cardillo, Lynn McMahon, Kristi Schaefer and Scot Wallace will lead the integration process for the firm. Pipitone said his top priority for PUSH SEVEN is to maintain continuity in terms of staffing and servicing. "We know how much PUSH SEVEN clients value the relationships they have with the people they work with. We will honor those relationships and are committed to preserving the high levels of personalized service they've come to expect," he explained.
PUSH SEVEN will maintain its downtown office and keep its name until renovation is completed on expanded space at the Pipitone Group building on Perrysville Avenue. The expansion is expected to be completed this summer.
Among the clients the Pipitone Group and PUSH SEVEN currently share are Allegheny County Airport Authority, PPG, Presbyterian SeniorCare Network and Vitro Architectural Glass.
ABOUT PUSH SEVEN
PUSH 7 was created in 2016 through the merger of Yearick-Millea and McMahon & Cardillo Communication, both founded in the early 1990s and SWZ Design, which was founded in the 1970s. The company provides comprehensive marketing communication and graphic design services, including advertising, content development, crisis communication management, media relations, special events planning and management, and strategic communication campaign planning.
ABOUT PIPITONE GROUP
Pipitone Group is an award-winning, Pittsburgh-based integrated marketing and communications firm. Known for its collaborative, "inteGREAT" approach, Pipitone Group has been producing strategic, creative marketing campaigns for clients in industries such as commercial building products, education, nonprofit, technology services and health care for more than 25 years. Founded in 1992, Pipitone Group has grown into one of the region's most dynamic mid-sized agencies. Learn more at http://www.pipitonegroup.com.