We are pleased to welcome three new interns to the Pipitone Group team. Two integrated marketing interns—Megan Wesley and Katie Krissinger—and design intern, Derek Truninger, will be joining the team for the summer. The three interns will get a chance to experience first-hand what life at an integrated marketing agency is really like. Check out their bios below: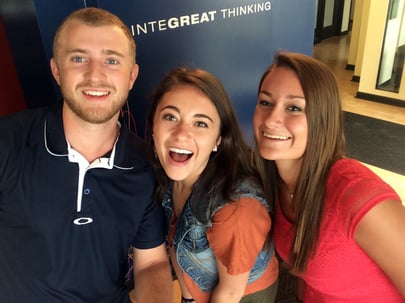 Megan Wesley
Megan Wesley, an integrated marketing intern, is a rising junior at the Pennsylvania State University majoring in Public Relations with minors in psychology and parks, recreation and tourism. She lives in Cranberry, PA with her parents, younger sister, and her Chihuahua, Punky. Megan is a proud Nittany Lion and loves getting involved. At college, Megan unleashes her inner fashionista as a writer for the school's fashion publication, Valley Magazine. She also prides herself on being involved in THON, a philanthropy raising money for pediatric cancer, through her membership in Boulevard. In her spare time, Megan enjoys traveling, yoga, snowboarding and satisfying her guilty pleasure: online shopping. When she graduates, Megan dreams of packing up her swimsuits and sunglasses and working in the Public Relations field at a tropical resort.
Katie Krissinger
Katie Krissinger, an integrated marketing intern, is a senior at the Pennsylvania State University and is majoring in Public Relations. Katie is minoring in French and Business and hopes to work in the beautiful land of France someday. At Penn State she is on the Dancer Relations committee for the student-run philanthropy organization, THON. She's also a French tutor and apart of the Lion Scout tour guide team. Her home is in Allentown, PA, where she lives with her parents, sister and Louie, her Pomeranian pup. Katie enjoys shopping and being on the beach. When she's not lounging in the sand, she loves to go running. She can't wait to start her internship at Pipitone Group and learn the ins and outs of what being an inteGREATor is all about.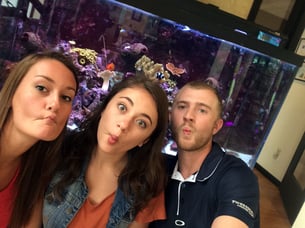 Derek Truninger
Derek Truninger, Pipitone Group's design intern, will be entering his senior year at Cedarville University this fall where he is working towards a Graphic Design major and minors in web design, studio art and Bible. You will most likely find Derek on the golf course practicing for his final season on the Cedarville men's golf team or taking a run through the city. Recently, he finished the Pittsburgh Half Marathon and hopes to complete the full marathon in the near future. Derek is a proud Pittsburgh native and currently lives in Moon Township, PA with his parents. Given the unique opportunity to intern with the Pipitone Group, Derek hopes to run his own design firm one day.
Welcome to the team, Derek, Megan and Katie!