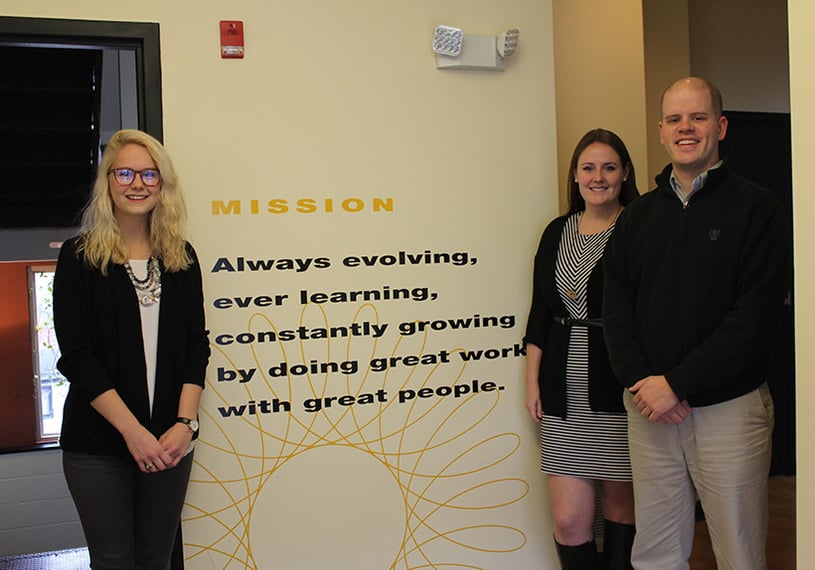 Pipitone Group (PG) is pleased to announce the addition of Grace Calland, Emily Rich and Alex Oltmanns to its team of integrated marketing professionals.
Calland joins the PG team as an account supervisor after spending five years in an account service role at Red House Communications, most recently working as a senior account executive. In her new position, Calland will be involved in the day-to-day supervision, planning and execution of marketing service activities, while also overseeing the strategic direction of both traditional and digital marketing initiatives. A graduate of Loyola University Maryland, Calland holds a degree in Communications with a specialization in Advertising and Public Relations.
"We're very excited to have Grace as a part of our team," said Kim Tarquinio, Pipitone Group director of account services. "Grace has exceptional marketing skills that will be a great benefit to both Pipitone Group and our clients moving forward."
Rich comes to PG as its newest interactive designer, working primarily on web design, while also providing assistance on print projects. With a Visual Communications: Interactive Media degree from Ohio University, Rich most recently worked at the Pittsburgh Tribune-Review as an interactive design intern.
"Emily's combination of interactive and traditional design talent, along with her ability to code, is very hard to come by," said Jeff Piatt, Pipitone Group principal and chief creative officer. "Her background in web design, development and creative interface strategy provides her with a skill that will certainly provide our clients with engaging and functional websites as well as improve our whole design team's interactive intelligence."
Oltmanns joins PG's communications and public relations department as a content specialist, where he will work to develop creative marketing campaigns as well as write numerous types of print and digital copy in collaboration with other PG departments. With an English Writing degree from the University of Pittsburgh, Oltmanns comes to PG after working most recently as a Communications Specialist with the Pennsylvania Environmental Council and a freelance writer at the Pittsburgh Tribune-Review.
"Alex's experience on both ends of the public relations spectrum is an important addition to our department," said Pipitone Group director of communications Scott Henry. "Alex, along with our existing communications staff, combine to form an exceptional team of writers that will create both creative and compelling content."
Leave your welcome messages to Grace, Emily and Alex in the comments below!