Gil joined Pipitone Group in August 2021 with more than 20 years of strategic communications and creative concepting experience. Read on to learn more about what makes Gil an inteGREATor.

What's your role at Pipitone, and what are some of your primary responsibilities?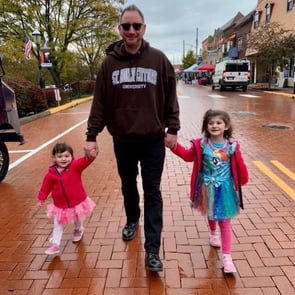 As a senior content strategist, I work with clients to develop specific strategies for their brands. I'm also responsible for high-level messaging, brand position, writing and developing creative concepts for various client campaigns.

Where did you attend college?
I majored in philosophy at St. Bonaventure University in Allegany, New York. Interestingly enough, the Allegheny River runs through the St. Bonaventure campus.

What led you to Pipitone? Tell us about your previous work experience.
I spent the first decade of my career with ad agencies, including Brunner and Ripple Effects Interactive (now BarkleyREI). I spent some time abroad before returning to Pittsburgh and leading internal creative services departments at EDMC and then Direct Energy Business, where I led a team of writers, designers and content strategists.

Can you tell us about an accomplishment you're proud of?
Early in my career while working at Ripple Effects, I developed new branding and messaging to improve the user experience for the Pennsylvania tourism website, a pioneer website that ended up winning several awards. Later in my career, I led the effort to revamp the B2B brand identity at Direct Energy Business, developing new brand guidelines, visual identity, voice and tone.

What are some fun facts about you?
I grew up in Buffalo as the youngest of 10 kids, and I'm still a huge Buffalo Bills and Sabres fan – I'm named after a former Sabres player, Gilbert Perreault. I have two daughters, Sophia and Gabrielle, and I'm proficient at exterior illumination for holiday decorations.

What do you like most about working at Pipitone?
I really like the diverse client base, varied disciplines and integrated approach at Pipitone. On top of that, the people here are extremely kind, knowledgeable and great to work with.
Gil, along with the rest of the Pipitone team, does great work with great people. To learn more about Pipitone's integrated marketing and communications services, please visit our website.
We're also hiring! If you're a passionate, creative communications professional, please visit our Careers page to learn more about our open positions. We look forward to hearing from you!