Greg joined Pipitone Group in April 2021 with more than two decades of digital marketing and advertising experience. Read on to learn more about what makes Greg an asset to Pipitone Group's mission.

What's your role at Pipitone, and what are some of your primary responsibilities?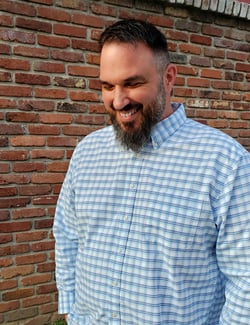 As a senior digital strategist at Pipitone, I work with clients to strategize their marketing efforts. I sit down with clients and ask about their digital marketing goals, help them create a technical plan based on those findings, then bring leads and build awareness based on their specific needs. I also help Pipitone expand its digital capabilities while serving as a mentor to junior digital specialists and strategists.

Where did you attend college?
I attended Penn State University for operations management as well as for leadership. From there, I earned my marketing certification from the Wharton School of Business at University of Pennsylvania and my certificate for leading innovation from Vanderbilt University. I really enjoy learning, taking courses and keeping up with the latest digital marketing trends.

What led you to Pipitone? Tell us about your previous work experience.
Prior to working at Pipitone, I worked as the Associate Director of Digital Marketing at Barkley, a full-service advertising agency. While there, I worked with clients like Delta Faucets, Penn State, and the University of Texas. Before that, I worked at Deka Lash, a beauty company specializing in eyelash extensions, and helped them create and grow their brand from the ground up. During my career, I've also worked in digital strategy and ecommerce development for clients like Walmart, Target, Kohl's, UPS and Fanatics.

Can you tell us about an accomplishment you're proud of?
I'm really proud of the work I did to help Deka Lash get off the ground so quickly. In the span of three years, we were able to go from four local studios in Pittsburgh to appearing on the Franchise 500 Ranking in Entrepreneur. We started out with no marketing team, but we built up the system, hired talented people and eventually helped franchisees with their marketing efforts, too. I'm proud of what we accomplished there in such a short amount of time.

What are some fun facts about you?
I have been married to my wife, Tanya, for 17 years and we have a beautiful daughter, Gianna. I'm a fine artist, and I have a small piece that's still in a gallery in New York. I also used to love to race motocross. I lived and breathed motocross for the better part of four years.

What do you like most about working at Pipitone?
I love how everyone here works together. The project teams for each client are chosen carefully and strategically. There's just so much experience here. People at Pipitone earn their positions because they're great at what they do. It's an awesome place to work.

Greg, along with the rest of the Pipitone team, does great work with great people. To learn more about Pipitone's integrated marketing and communications services, please visit our website.
We're also hiring! If you're a passionate, creative communications professional, please visit our Careers page to learn more about our open positions. We look forward to hearing from you!