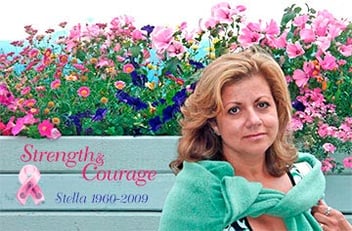 In 2009, Stella Pipitone lost her courageous battle with breast cancer. But, her legacy still lives on to this day thanks to a relationship she formed with another breast cancer patient, Dr. Sharon Cowden. At the time, Sharon was working with Janette Poppenberg an ACSM/ACS certified Cancer Exercise Trainer on developing an exercise DVD for breast cancer survivors. They had received funding and were in development of the DVD, but needed help promoting it and raising more awareness about it.
A chance meeting in a waiting room
Stella Pipitone met Sharon Cowden during her treatments and began speaking about this new project. Stella insisted that Sharon and Janette meet with her husband Scott Pipitone, who had the tools and the team to help get the word out.
Strength & Courage: Exercises for Breast Cancer Survivors debuts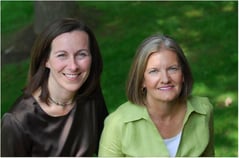 In 2008, the DVD debuted and since that time, Sharon and Janette have worked tirelessly with the help of many others to get this DVD in the hands of breast cancer survivors all over the world. Since the launch, they have distributed more than 20,000 DVDs in all 50 states and in 23 countries. It is now known as a nationally recognized exercise program that strives to enhance women's ability to lead active lives after breast cancer treatment. It's been written about in medical journals, the New York Times and Parade Magazine. It's truly a remarkable story.
The next challenge
Recently,Strength & Courage received a generous donation from a private donor to fund a translation of the DVD and film a version for Spanish-speaking survivors. Breast cancer is the most commonly diagnosed cancer among Hispanic women. An estimated 17,100 Hispanic women were diagnosed with breast cancer in 2012 alone according to Cancer Facts & Figures for Hispanics/Latinos.
While funding for the DVD development has been established, more funds are needed for distribution to Spanish-speaking doctors and their patients.
Consider donating
Strength & Courage has established a fundraising campaign on its Facebook page.The goal is to raise $25,000 for reproduction of 3,000 DVDs for doctors who serve Spanish-speaking patients. Strength & Courage will also use the funds for outreach to the Hispanic medical community, to translate sections of the website and add a Spanish downloadable file. The Spanish translation will be available for purchase in October for $20. Five dollars from each sale goes to the Breast Cancer Research and Education Fund at Magee-Womens Institute & Foundation in Pittsburgh.
Honoring Stella's memory and legacy.
Thousands of women have been touched by Strength & Courage and thousands more can be reached by a generous donation. Stella's impact on this earth is measured by her three beautiful children and loving husband, Scott. But, it's also measured by her own Strength & Courage during her battle. Honor her memory and make a donation to help others find their Strength & Courage today.
Click on the ribbon below to donate.