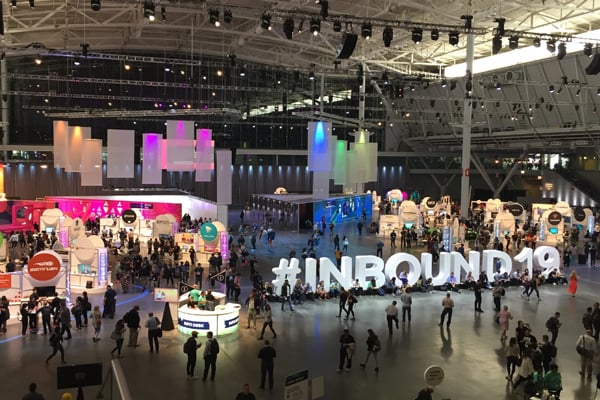 As a marketer, often the best insights come when you're able to step away from your day-to-day and explore new ideas from a unique perspective.
That's exactly what the annual INBOUND conference is all about. Hosted by Hubspot, this year's four-day event featured inspiring speakers—including Katie Couric, best-selling author Elizabeth Gilbert and Hubspot co-founders Brian Halligan and Dharmesh Shah—educational breakout sessions and even live performances from entertainers like Chelsea Handler.
Needless to say, there was a lot to take in. Yet, a handful of insights really stood out to reinvent common marketing practices that we often take for granted, as well as ways to use Hubspot in new and exciting ways.
A New Species of Disruptor – Hubspot co-founder Brian Halligan noted that disruption is rapidly gaining traction across all facets of everyday life and that disruptors are experiencing success due in large part to a superior sales process. Simply put, how they sell is why they win. He broke down five shifts in strategy that are proving to be disruptors in the marketplace.
Product market fit—Experience market fit
Friction-filled buying process—Frictionless buying process
Anonymous sales experience—Highly personalized
Selling to customers—Selling through customers
Business model followers—Business model busters
The disruptor that stuck out to me was the movement toward an experience market fit. Halligan cited Carvana as an example of this phenomenon, as the company has grown into the largest auto dealer in the U.S. While traditional strategies in the car dealership industry would tell you to focus on inventory, Carvana is focused on the buying experience to appeal to the market. By focusing on what buyers hated about the car-buying process and removing it from their sales process, Carvana has created a user experience without the wheeling and dealing of a sales person and endless paperwork.
Growing Better – Achieving growth can be difficult. In fact, complacency is so convenient that it can lead to professional roadblocks. Hubspot co-founder Dharmesh Shah's presentation noted several common fears in business that can lead to stagnation. For example, often times marketing tactics aim to delight the many. Yet, we get so caught up in casting such a wide net that we lose focus on our main target demographic and end up without a focused and concise audience. He also discussed the "fear of surrendering sameness." Marketers like to implement tactics that are familiar to them, while new ideas and approaches are being reinvented every day in our industry. The fear of trying new ideas will quickly leave marketing teams with outdated tactics.
A New Approach to the Hubspot Flywheel – Last year, Hubspot retired the sales funnel and introduced the flywheel model that presents a renewed focus on the entire sales funnel with marketing, sales AND service to drive business growth and customer delight. The new focus on service allows companies to account for how their customer service teams can add value by creating repeat/continued business, as well as referrals. Focusing on the flywheel allows all aspects of the organization to contribute to its ROMI and can put a focus on where the friction is slowing down sales and where there is force to increase sales – with the end goal of learning where improvements can be made.
Adjusting Traditional Chat Functions – One major lesson I walked away with was how to use website chat features to become more conversational. Creating user stories to target a specific audience instead of casting a wide net creates a more targeted chat. While this may not be for everyone, focusing on the first question posed by the chat helps to pique the interest of the niche audience by getting as close to its primary pain point as possible.
At Pipitone Group, we work every day to align sales with marketing. As a Hubspot Gold partner, we tailor digital marketing strategies for our customers as a part of our overall integrated approach to push the creative envelope and achieve tangible results. Staying true to our motto of "always evolving, ever learning," we're eager to implement these integrated marketing strategies and more to ensure we're delivering the latest innovations to our clients.
Want to see how Pipitone can drive your digital strategy? Contact us to learn more.