For over a decade, Pipitone Group (PG) has partnered with PPG Architectural Glass (now Vitro Architectural Glass), an industry leader in commercial glass and the most specified brand of glass among architects in the U.S.
PPG, a leader in sustainability, first launched Solarban® glass in 1964, and over several decades it would become a robust product line of advanced solar control low-emissivity (low-e) glass products that support inspired aesthetics, energy efficiency and reduced building operating costs.
To promote the 50th anniversary of Solarban® glass, PPG turned to PG for help developing a strategic marketing plan to promote the product's legacy and, more important, its ongoing success.
At its conclusion, the anniversary campaign earned awards from the Public Relations Society of America (PRSA) Pittsburgh Chapter, the Business Marketing Association (BMA) and the Hanley Wood Brand Builder Awards. While we're extremely proud of these accolades and the results we helped generate for our client, we were also pleased to come away with some key lessons that we continue to apply today to help drive the strategic recommendations and powerful creative we deliver to all of our clients across all industries on a daily basis.
Review some of PG's best practices and industry know-how that we learned from the success of the PPG Solarban® Glass 50th Anniversary campaign:
There's no substitute for high quality imagery
Throughout our 10-year partnership with PPG, we've learned that architects—their primary audience—place a high value on beautiful project imagery. Therefore, the centerpiece of the Solarban® 50th anniversary campaign, from advertising creative to the custom microsite, was a gallery of stunning, high quality images of projects that feature Solarban® glass. Acquiring and organizing the imagery and project information was a complex, time intensive process. But when you combine an attentive client with thoughtful interactive design, the result is a visually acute promotion tool that inspires architects and reinforces a brand's reputation.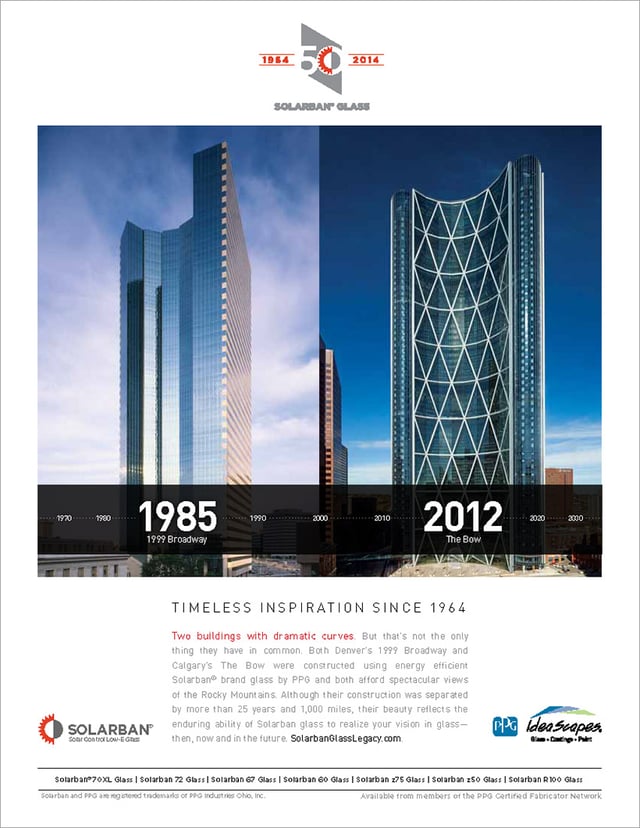 Everything's connected

The Solarban® glass campaign was comprised of numerous tactics, including print and digital ads, photo caption releases, event sponsorships, collateral development and event promotions, all working toward the same goal of raising awareness and generating sample order requests for Solarban® glass products. This project was a true testament to our integrated approach, generating 450,000 print media impressions, 300,000 digital impressions and over 2,000 unique visitors to the microsite.
Balanced interactive design is key

PG's Marketing Technologies and Design teams are committed to keeping up with current trends in web design, which was instrumental in the success of the anniversary microsite. In approaching the project, our team knew that the microsite would need to be contemporary and user-friendly. The aesthetic would need to be fresh, yet emphasize the product's proud, 50-year legacy. The solution that was developed utilized continuously scrolling, large, dynamic imagery, an interactive timeline and map, a colorful, easy-to-reference product performance chart and a gallery of projects spanning five decades of commercial construction. Yet even with so many elements, the site was still user-friendly and easily navigable.


Experience matters
Of course, executing an integrated campaign becomes a lot more manageable when you have a great client with strong brand equity and a great working relationship. With PPG glass's history and reputation within their industry—it was easy to develop an award-winning strategic plan to promote Solarban® glass to architects. PPG's vast image library and its focus on supporting architects, from inspiration to installation, all influenced the campaign's messaging, design and calls to action. Thanks to integration—in every sense of the word—the campaign is one of our most highly regarded and most teachable campaigns.